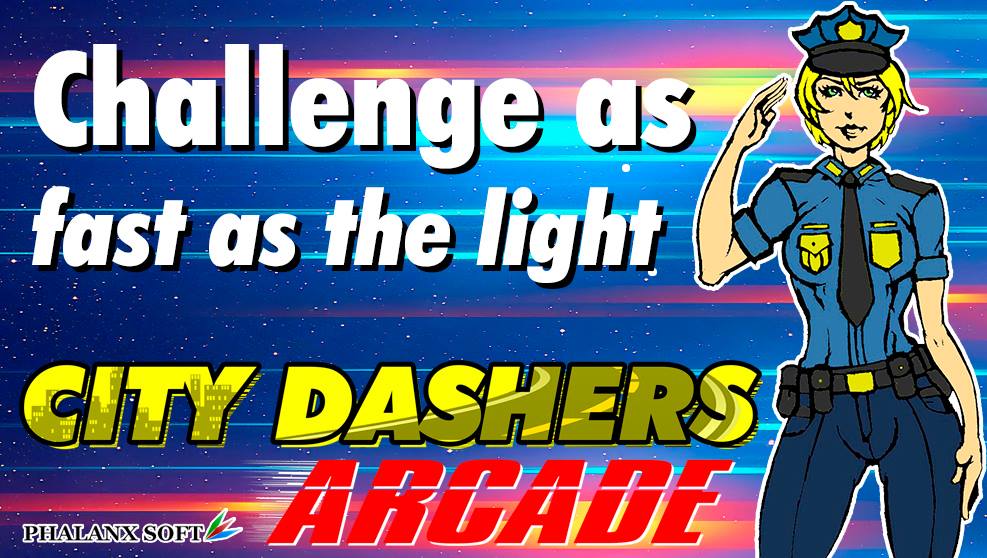 City dashers arcade
A downloadable game for Windows
CITY DASHERS ARCADE
Challenge your techniques, calculate your jumps on vehicles (but not all), rescue all coins and use magnets, the more you run, the more coins and points you will earn!
GAME HISTORY
Meet Cindy, one of the residents of Dash City, where she needs to run to recover the stolen money, but will need to overcome obstacles on the street where she is passing...
Cindy is a hurried and dynamic young police officer who is late, a little flustered, but not afraid of extreme challenges!
HOW IS THIS GAME?
In the style of arcades, with the current gameplay, City Dashers Arcade is the perfect challenge for all ages, at the right time to challenge your mind and strategy, perfect for daring players and runners!

Use as keys A-arrow left to left D-arrow right to right S-down space for the jump.
Know a little about this fun game and support our first game built by Phalanx Soft here at Raknay Games and help this project to travel even greater distances!
Collaborate with our StartUp today and have even more fun in the future!
We are a family owned and operated business.
Music street_bikers by draganov89

--------------------------------------------------------------------------------------------
CITY DASHERS ARCADE
Desafie suas técnicas, calcule seus saltos sobre os veículos (não todos), resgate todas as moedas e use ímãs, quanto mais você corre, mais moedas e pontos você ganhará!
HISTÓRIA DO JOGO
Conheça Cindy, uma das moradoras de Dash City, onde precisa correr para recuperar o dinheiro roubado, mas precisará superar obstáculos na rua onde esteja passando...
Cindy é uma jovem policial apressada e dinâmica que está atrasada, um pouco atrapalhada, mas não tem medos de desafios radicais!
COMO É ESTE JOGO?
No estilo dos fliperamas, com a jogabilidade atual, City Dashers Arcade é o desafio perfeito para todas as idades, na hora certa para desafiar sua mente e estratégia, perfeito para jogadores e corredores ousados!
Use as teclas A-seta esquerda para esquerda D-seta direita para direita S-down espaço para o pulo.

Conheça um pouco sobre este divertido jogo e apoie nosso primeiro jogo construído pela Phalanx Soft aqui na Raknay Games e ajude este projeto a percorrer distâncias ainda maiores!
Colabore com o nosso StartUp hoje e divirta-se ainda mais no futuro!
Musica street_bikers by draganov89

Install instructions

Click on the executable it installs automatically.. 
Good game